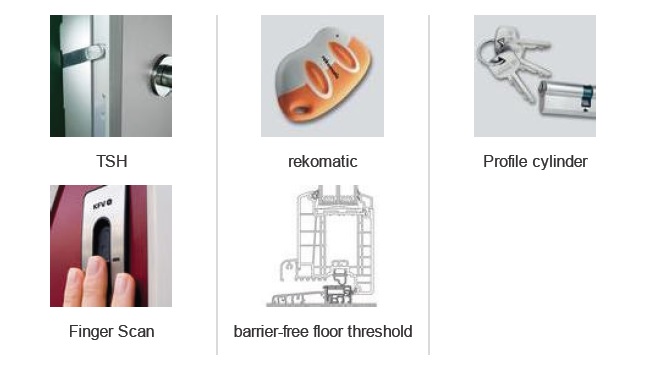 Additional features...
With rekord there are always additional features that mean options beyond what is ordinarily expected. Here are just some of the great add-on options that are available...

3-D Volume: For optimal adjustment of your door even when installed. This comes standard with the signum range. On request, rekord can incorporate it into your profile, contour and future door too.

TSH: Open your door without risk. The door gap fuse provides additional security by preventing unintentionally fully opening the door. Chains securing the door gap are integrated and concealed in the door rebate.

Coded profile cylinder with security card: Integrated emergency and danger function, the lock can be opened with a spare key if a key is inserted from the inside. The double-sided anti-drilling also provides resistance against mechanical attacks. 3 security keys are included.

The rekomatic: A porter for your pocket. The electronic locking system "rekomatic" receives commands from a small hand-held transmitter.

Finger Scan: Admission by fingerprint is an additional option in conjunction with the locking system "rekomatic". This sophisticated functionality is based on the principle of biometric recognition and thus provides a safe and convenient alternative to keys, access codes and cards.

The barrier-free floor threshold: A combination of plastic and aluminium. The thermal insulation properties are guaranteed. Removable floor insert (25 mm), ideal for the renovation of old buildings for example.