Ornamental and functional glass
In combination with Rekord's high quality frames, any glazing option you choose - be it functional or ornamental - will always perform to your maximum expectation.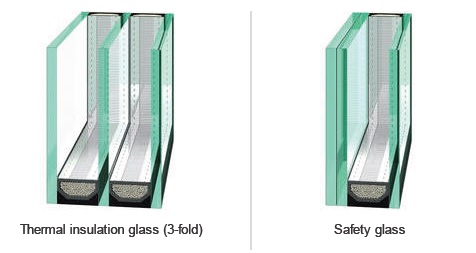 Functional glass


Including functional glass panes that meet other specific functions in addition to weather protection.

- Heat resistant glass - heat protection. By enormous reduction of CO2 emissions you save on energy costs and contribute to climate protection.

- Safety glass - About 40% of burglaries happen through window panes. Toughened safety glass (ESG) or laminated safety glass (LSG)) can offer added protection against burglary, fire, explosion and injury.

- Soundproof glass - With the right glazing you have the opportunity to significantly improve the sound insulation of your home.

- Solar control glass - With sun protection glass you can reduce excess sunlight coming into the room and over-heating. Sun protection and thermal insulation can be combined.

To create an atmosphere of light and transparency without allowing others to see in, choose from the following specially selected range of ornamental glass.