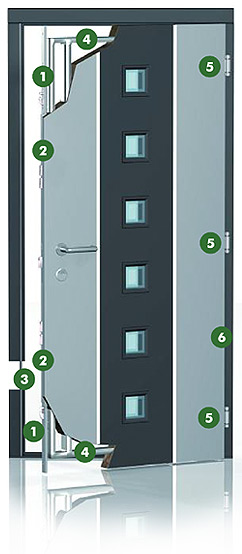 Safe locking

Hidden all-round protection for your front door. Common vulnerabilities are, in 90% of cases due to attack on the lock and the door frame.

Resistance of rekord front doors is tested objectively according to the strict rules of the European safety standard and classified. The special lock that comes as standard with the signum series, meets the high requirements of resistance class 3. This includes for example: prying open by a crowbar with a leverage of up to 5 tons. This is excellent burglary protection.

1. The now standard, proven 3-latch lock and two additional swivel bolts in the locked position to prevent unwanted intrusion - and in the unlocked position prevents types of intrusion such as using a credit card.

2. Massive double studs provide a more robust association with the locking bar.

3. Forcing almost impossible - The continuous locking strip consists of a 3mm reinforced steel profile, which is screwed into the frame - this means maximum protection over the entire height of the door.

4. Guaranteed to withstand - the circumferential welded steel frame ensures dimensional stability of your front door.

5. Optimal set - the 3-D volume allows the perfect adjustment of your door when installed - maintenance free and virtually indestructible!

6. The continuous band securing bar is bolted firmly over the entire frame height by 4mm thick steel and guaranteed in combination with the keyway in the door leaf providing reliable protection against forced opening.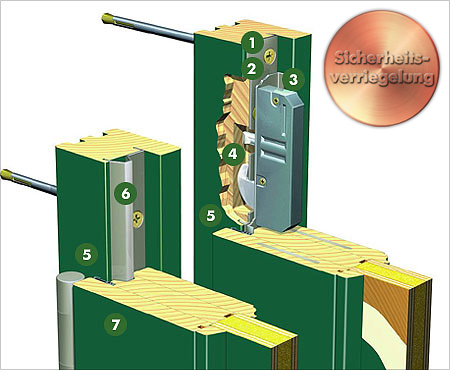 Safety interlock

Absolutely reliable: rekord-locking security for profile, contour and future

The timber house doors in our series, profile, contour and future all feature the standard proven safety rekord locking system. Providing you with sophisticated protection in titanium with two additional bolts and pivot bolt pairs above and below. Hinge and lock side are fitted in the frame with steel profiles.

1. Through U-locking bar with both sides five times dowelling

2. Locking bar hidden in the frame rebate - strike plate on the frame not visible

3. Extra wide U-forend door additionally stabilised

4. Two paired bolts and pivot bolt

5. Age resistant, special gasket

6. Positive interaction between band and side door by the special rekord-tape fuse strip

7. Additional burglary resistance at filling glasses possible