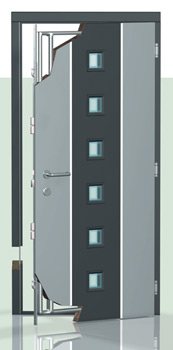 Let yourself be inspired

No matter what your preferred style is, signum by rekord not only meets your high standards, but also gives you unparalleled design options.

Benefits

rekord sets new standards...

- Individual design options with the three-layer solid core construction. This gives you almost unlimited design possibilities with light openings and profile constructions.

- Lace-intrusion protection through the unique record vault locking resistance class 3. This innovative mounting system is included in our signum wood doors as standard.

- Incredible 10 year warranty * on the dimensional stability of the door leaf - a product promise that only rekord offers.

- Optimum thermal insulation with the special wood fibre insulation boards. This means the air quality (class 3) is simply the best!

- The steel core and the innovative door ensure high environmental stability. The innovative sealing vault is included in our signum doors as standard.