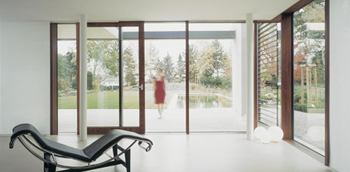 Smooth design
The use of sliding and tilt doors is particularly recommended for balcony and patio doors, glass extensions and conservatories. Large windows with a total width up to 4.0 m are suitable for installation. Sash heights up to 2.7 meters are not a problem so you can incorporate floor to ceiling windows easily.
Convenient operation
Even large sliding retractable doors can be tilted as well as comfortable and space-saving options such as doors that slide to the side with one hand. The high-quality carriage is durable allows for comfortable handling of your slide and tilt doors.

Integrated lockout. Innovative integrated circuit lock allows effortless control and prevents accidental lifting of the wing.