Timber Windows
Wood - the most beautiful frame for windows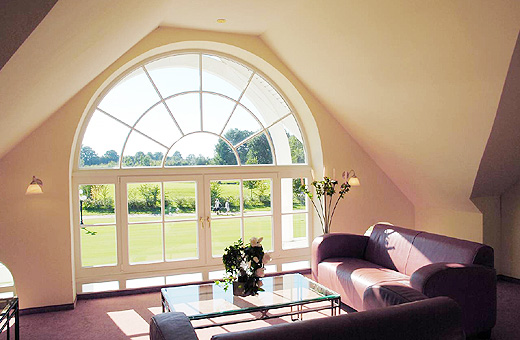 With its versatile design possibilities and physical properties, wood is the ideal material for producing windows. Windows that feel good and radiate cosy warmth, suit the building and provide a healthy atmosphere in the room. Living with timber windows means living in harmony with nature. In addition, timber windows regulate humidity and are energy saving and durable.

rekord timber windows - genuine originals
Whether for a new build or a renovation - choosing rekord ensures you will be choosing a modern, secure window system of the highest quality. This brand name stands for excellence in design and versatility, workmanship, technology and service. Above all, rekord's made to measure products are manufactured according to your individual wishes, whilst complying with all of the current building requirements. All of this skilled knowledge and industrial know how comes as a result of over 90 years of experience.

Discover unusual ideas, inspiration and innovations in wood. rekord truly offer unbelievable design possibilities for your windows...

Made to measure
Whether square or arched, one two or more fixed or open sashes, with top or bottom fixed or opening lights, or in other quite different designs - with the rekord window system, almost all visual effects are possible. No off-the peg standards, your taste alone decides. You set out the design and function, rekord converts it.

All you need to do is choose from a huge range of top quality timbers and a large selection of colour options. Then select glazing bars, decorative elements and accessories if required. Every window is made by hand and with the most up to date technology, entirely according to your wishes, always exactly to your specification.

Barrier free
For safe and streamlined usage, a low sill can be supplied, which ensures more freedom of movement and more comfortable living. This sill, even with wide open sliding doors, allows you to forget the boundary between inside and out. Without a raised sill, the risk of accident reduces and your quality of life increases.

Modern masterpieces
You should enjoy your windows for many years to come - that is why, with rekord only the best of modern and traditional methods is good enough.

In the manufacture of timber windows, rekord consciously relies on a combination of traditional workmanship and state of the art technology. Only the trained eye and sure hand of a master craftsman can guarantee that every window is precisely what it should be. In the same way, rekord use innovative industrial processes to ensure that best end result.

Product advantages:

First class quality down to the last detail
1. Extreme energy saving - you save money and help the environment with top quality thermal glazing.
2. Extra watertight - additional sealing internally and externally, as well as on the inner corner of the frame profile.
3. Perfectly protected - all edges are rounded to ensure even application of treatments and finishes.
4. Sealed all round - thanks to two near indestructible seals made from synthetic rubber (APTK), rekord achieves additional protection against moisture. This system ensures that less condensation can form in the groove area, resulting in more protection against corrosion of the fittings. They also provide greater noise protection and an additional saving in energy.
5. Highly weather resistant - the thermo-rail drainage system makes the window extremely weather resistant.
6. Absolutely environmentally friendly - water soluble paints and stains fit with rekord's environmental policy.
7. Super stable - frames and sashes are made from laminated timber to ensure maximum stability.

Simply make some choices using the information below to get started on your way to beautiful windows...